COMMUNICATOR (A GSM,GPRS,RFID Attendance System)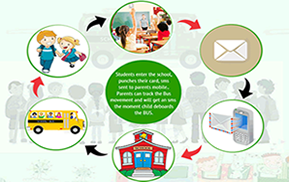 "GSM Security Products" is an Organization formed to provide Safety Application to students studying in various Educational Institutions across India and Abroad. The existing conventional attendance system requires students to manually sign the attendance sheet every time they attend their school / class. As common as it seems, such system lacks automation, where a number of problems may arise. This includes the time unnecessarily consumed by the students to find and sign their name on the attendance sheet; some students may mistakenly or purposely sign another student's name. There is also another way of marking attendance when the teacher calls out the name of student and marks him/her absent or present basis their call back. There can be incidences when the attendance sheet may get misplaced or tampered. Having a system that can automatically capture student's attendance by flashing their student card at our device can really save all the mentioned troubles. This is the main motive of our system and in addition having an online system accessible anywhere and anytime can greatly help the School to keep track of their students' attendance. Looking at a bigger picture, deploying the system throughout the academic faculty will benefit the academic management as students' attendance to classes is one of the key factor in improving the quality of teaching and monitoring their students' performance. Besides, this system provides valuable online facilities for easy record maintenance offered not only to School and parents but also to related academic management staffs especially for the purpose of students' progress monitoring

Features of Communicator:
Communicator (Touch and Go) – Parents get an instant Present Message the moment student touches the device with their RFID Smart card. Similar message will be sent when the student leaves the school premises. The model is Plug and plays system and don't need LAN connection, computer, etc.
Communicator (Walk Through) – The moment student walks through the communicator gate, attendance will be marked and automatic SMS will be generated and sent to parents.
Web Interface - In our effort to provide support to (Touch and Go) and Communicator (Walk Through) and present School Management System through a Web Based Portal we have designed an application to provide back-end support to Administration.
Benefits of Communicator:
Monitors Student's Late Arrival and Early Departures.
Monitors Student's Absence
Even Teacher's Attendance can be Recorded through RFID Card
Provides Secure Identification of Students using Photo ID Swipe Cards
Efficient Management of Attendance
Summary reports and data analysis on full and partial absences
Daily reports to provide snapshots of current status of students
Full password protection and backup capabilities
Fully configurable
SMS Remove Duplication and General News / Notice Broadcast)
The GSM/GPRS based Panic Button Device is a very useful device for asking for help while any unexpected incident is happening or someone is in emergency situation.

How Panic Button Device work:
When the Panic Button is pressed from wireless sensor (remote) or button at device then instantly call and SMS goes to the four pre configured mobile numbers respectively. The Device will keep on calling all the numbers stored one by one till any one number pick the phone and press 1 to acknowledge that he has got the message that someone is in emergency. He may call the police or reach there to help that person.
The information of the panic button device location is instantly sent on the portal once the panic button is pressed. Real time transactional SMS send at configured numbers available at portal. The best feature of the device is only pre configured mobile numbers can also call at device and listen the conversation.
User can view different reports, like Recent Panic Button Pressed Report and Panic Button History Report of all configured devices at login based cloud portal. Register up to four Pre configured number, location name, device id, APN, enable disable portal functionality etc can be changed remotely from SMS, Add edit device information for portal also available at user login.
Pre Configured number can also make a call to the device, and listen the conversation where device is installed. If number is not configured device cut the call. Features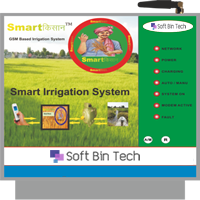 How does SMART KISAN work? It is very simple mechanism. It works on GSM technology. Farmers can send message to SAMRT KISAN to turn on and off the motor. If he send START with security code then it will start the motor and send confirmation to the same number. If there is no power supply or any other adverse condition which prevent the motor to work then it will not send confirmation to the user. It can also inform the user about device theft, faulty power supply and whenever the power goes off in middle of working motor, it will prevent the motor from single phasing, dry run, overload etc. if the said problems are existing the remote farmer will be getting message regarding problem details and automatically it will make the motor off.



What can it do?

It helps us to operate our motor from anywhere and anytime through SMS instead of going to farms to operate the motor.
It helps us to operate the motor for fixed hours preventing the wastage of electricity and water confirmation to the user.
We can have exact records of the time which motors remain on. It helps us to estimate the water supply to field.
Detect voltage fluctuations and problem in 3 phase power supply and inform the farmers.
Automatic turns of the motor in case water is not available and also gives notification through SMS.
It can be operated from any mobile and any operator to operator.